In this post I take a look at what in my opinion are the 16 most basic but important items you need to have in your Basic BOB.
For simplicity reasons, you can find all of these items on Amazon so that you can get them all in one place.
Backpack
Obviously the most important part of a bug out bag. I don't personally own this bag (wish I did) but I have friends that use this bag and love it. It is a great size plus it has MOLLE straps so that you can attach other MOLLE compatible gear to it (medical kits, magazine pouches, universal pouches etc..). This bag is Official US Military Surplus so you know that it will be great quality.
Official US Military Surplus ACU Molle II Large RuckSack Backpack
Knife
In my personal opinion Ka-Bar is the number 1 survivalist blade out there. For the price and performance you cant beat them. You can use this knife for protection, chopping wood, whittling etc.. These things are limitless and extremely durable.
This is a multiple purpose must have item.
Ka-Bar Becker BK9 Combat Bowie Fixed Blade Knife
Small Survival Kit
The Lifeline Ultralight Survival Kit weighs in at only 7oz and measures 8" x 7.8" x 1.5", a very small and light survival kit. It's a good starter survival kit and well worth it for the price. You can easily get the items out of the waterproof container easily and if you need to they are easily replaceable.
The kit is packaged inside the Weatherproof Carry Case, so inside that you have: Waterproof Matches, Aluminium Foil (18" x 12"), Emergency Blanket, 50' Fishing Line, 4 Hooks and 4 Sinkers, 8′ Snare Wire, Map Compass, Emergency Whistle, 10′ Emergency Cord, 36″ Roll Duct Tape, Reusable Zipper Lock Bag, Surgical Blade, 5 Wound Closure Strips, 3 Safety Pins and a handy Survival Guide.
Water Filter
Clean water is ABSOLUTELY essential. Yes you may have some water saved up, but when you run out you will want a quick and easy way to get clean fresh water from any source. This personal water filter straw removes 99.9999% of waterborne bacteria (per the manufacturer). It will filter 1,000L of water, that translates to 264.172 gallons and will filter particles down to approximately 0.2 microns. Pick up a few of them.
Best way to purify water (and easiest way) is this Lifestraw Personal Water Filter
Mess Kit
This is a Stainless Steel Mess Kit for cooking your food over a fire and eating out of. You can use this to drink out of as well. Most MRE's will require you to have one of these.
Goetland 304 Stainless Steel US Military Mess Kit Plate Set
Flashlight
This is a great flashlight for a bugout bag. Having an LED light will really save on batteries plus you should never have to replace the bulb. Maglite is known for durability and reliability, you can never go wrong.
Be sure and pick up some extra AA batteries to put in your bag! Batteries and a holster should be included.
A good EDC Flashlight is this MagLite SP2P11H LED 2 Cell AA PRO Flashlight with Batteries and Holster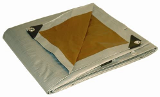 Waterproof Tarp
A durable waterproof tarp is very important to have. Possibly one of the most important. You can use waterproof tarps for building a shelter, catching dew / rain water, an extra blanket as well as many other things. It would not hurt to get a couple extra here, in being a survivalist you never know what kind of situation you could end up in.
Multi-Purpose Silver/Brown Heavy Duty DRY TOP Poly Tarp 10' x 12'

Matches
A fire is absolutely necessary as well when you don't have access to shelter and/or electricity. These matches will stay lit if you drop them in water and will also stay lit in high winds. These UCO Stormproof Matches will stay lit for approximately 15 seconds.
Survival fire UCO Stormproof Matches, Waterproof and Windproof with 15 Second Burn Time – 25 Matches
Butane Torches
Once again fire is absolutely CRUCIAL to survival in any situation. Butane torches are great since they are wind resistant. So it's definitely worth picking up a few of them, as well as some torch butane refill.
Windproof Refillable Butane Triple Jet Flame Torch Lighter

Camping Utensils
Cant go without eating utensils. Well you could eat with your fingers, but this is much easier and cleaner. This compact fold-able kit includes a knife, fork, spoon, corkscrew, and a bottle opener. This is much easier than carrying them all separately. It also comes with with a storage bag.
Ka-Bar Tactical Spork (Spoon Fork Knife) Tool
Foldable Shovel Spade Tool
A shovel is a great tool for building a shelter. This E-Tool also has a serrated and a plain edge for hacking, cutting, or slashing. Also this shovel will fold up into a very compact size to carry. It does not come with a cover to put it in, however those can be easily found on Amazon if you find it necessary to have one.
US GI Military Original Issue E-Tool Entrenching Shovel
Basic First Aid Kit
This basic 200 piece Coleman First Aid Kit is a great kit to start out with. If you want to add a few extra items I would include a good treatment for snakebites as well as a Bleeding Control Kit, Basic Trauma Pack down the road. You don't want to get a terrible wound or a snake bite and not have a remedy close by. Trust me.
A good start for your shtf first aid is Colemans Expedition First Aid Kit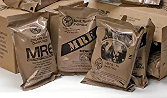 Food MRE's
Food is very important. This kit includes 12 meals and each meal includes a flame-less heater. Each meal is approximately 1250 calories. MRE's do last quite a few years, but always check the expiration date to ensure that when you need them they will be ready to eat.
Grab n go food storage like these MREs (Meals Ready-to-Eat) are a great option

Water
Water is also very important in survival instances. These little pouches are great to throw in your bag and will keep for 5 years. In most cases you will want to use these water pouches as a last resort, try to get your water from other sources or use your LifeStraw and save these for extremely harsh times.
Datrex Emergency Survival Water Pouch (Pack of 64), 125ml Portable Water
Survival Handbook
The 29 piece ultralight survival kit comes with a small survival guide, but nothing like this one. This one will cover you in absolutely any situation and climate you come across. This has some extra tips on preparedness, how to make a camp, where to find food, what to eat, what not to eat, first aid, and disaster survival. If there is one book you want with you in harsh times, this one is much better than just a good read. It might save your life or someone elses.
Check out SAS Survival Handbook, Revised Edition: For Any Climate, in Any Situation by Lofty Wiseman
Protection
It may also be in your interest to have some sort of extra protection like a gun. You may have some around the house, if you have any extras you may want to throw a hand gun with a couple of magazines and some ammo into your bag. You won't regret it.
Conclusion
Always keep in mind that it is not necessary to buy ALL of these items at once, you can always reference back and get maybe a few items on this list every few weeks or months (whatever fits your budget). Most bugout bag's are not built overnight, and shouldn't be since it needs to be filled with survival gear that could potentially save your life in difficult situations so it's always best to do your own research to ensure you get what fits your needs.