What Is A Bug Out Bag?
The phrase to "bug out" was first used by the U.S. Army when in military combat and they risked being over run they were ordered to "bug out". Meaning for them to withdraw quickly, but they needed to have the ability to survive in the field, so they always had a personal survival kit or Bug Out Bag ready.
So a Bug Out Bag, additionally called a "BOB", 72-hour kit, or a personal emergency relocation kit (P.E.R.K) is really a bag filled with the essentials that you'd may need to make it through if you needed to vacate your home quickly should a disaster occur.There are many different BOB's on the market but you want to choose one that's:
Sturdy – It'll often need to withstand all terrain & weathers and then placed in storage.
Small – And yet is able to store a lot of survival requirements. Compact pockets are in some cases better as you can then separate off and manage your items in order to enable it to contain everything that you will want to take with you.
Style – A poorly designed Bug Out Bag can certainly end up damaging your back most especially during the course of lengthy treks that would then hamper your chances of survival.
Here in this guide, I will be reviewing a number of bug out bags based upon their build material, cost and design.
Buyers Guide – Bug Out Bags
What attributes should you be considering if going to get a Bug Out Bag? Below are a few short key points which I believe are necessary:
What Weight Should Your BOB Be When It Is Packed
As a rule, your Bug Out Bag ought to be about 15% of your body weight. If your physical fitness level is above average then you could carry as high as 20% of your body weight.
What About The Frame
Its straps perform a vital role and they should be comfortable & made from sturdy material. Wide, padded and contoured straps are a key characteristic to look for in your tactical backpack. The very top of the shoulder straps ought to sit 1 or 2 inches underneath the shoulders while the bottom of your pack needs to sit nicely on your back, at no time more than 4 inches underneath your waistline. A waist belt is a bonus to help distribute the load evenly and take the stress off your shoulders & back.
What Material Is It Made From?
A number of essential features that you really need to take into account are wear-resistant & water splash resistant. As a typical rule of thumb, your tactical survival bag really should be manufactured from 500D – 1200D Cordura nylon fabric (or better). Not polyester or 200d Kodra.
What Storage Capacity Can Your Bug Out Bag Have?
Additional capacity allows you to carry bulkier belongings like a sleeping bag and fire kit. Your Bug Out Bag can be roughly the same overall size of an aeroplane carry on backpack which is roughly 40 to 50 litres and good enough to carry all of the items in your bug out bag checklist.
Modular Lightweight Load-carrying Equipment (MOLLE).
MOLLE helps you to secure other gear like a pouches, paracord and knife onto your backpack. MOLLE webbing can also allow you to set up your expensive kit on the interior
Editors Pick
If you are looking for a durable and versatile backpack that can withstand any adventure? Look no further than the REEBOW GEAR Military Tactical Backpack! This large army assault pack is designed to meet all your needs, whether you're going on a 3-day mission or simply heading out for a day hike.
With a size of approximately 13″ x 20″ x 11″ (33 x 50.5 x 28CM), this backpack offers a spacious capacity of 40L. Made from 600×600 Density fabric, it is not only incredibly durable but also water-resistant, ensuring your belongings stay safe and dry in any weather condition.
The molle system on this tactical backpack allows for easy attachment of additional pouches or gear, making it the perfect companion for combat situations. The heavy-duty zippers and utility-style cord pulls are double-stitched for added strength and reliability.
But that's not all – this assault pack backpack is designed with your comfort in mind. The ventilated mesh padded back area and shoulder straps provide breathability and comfort, even during long hikes or intense missions.
Need to stay hydrated on the go? Our military backpack is hydration compatible, meaning it works great with a hydration bladder (please note that the backpack doesn't include a hydration bladder). Stay refreshed and energized during your outdoor adventures with ease.
Not just limited to military use, this tactical backpack is incredibly versatile. Use it as a 3-day assault pack, range bag, survival backpack, army backpack, trekking backpack, or even as a day pack for your daily activities. The possibilities are endless!
Invest in the REEBOW GEAR Military Tactical Backpack today and experience the ultimate in durability, functionality, and comfort. Get ready to conquer any mission or adventure that comes your way!
Pros
High durability and water resistance.
Comfortable for extended use.
Versatile molle system for additional attachments.
Cons
Hydration bladder not included.
Might be bulky for daily, casual use.
Why Choose REEBOW GEAR Backpack Over Others?
This backpack isn't just about carrying stuff; it's about doing it efficiently and comfortably. Whether you're planning a three-day trek, a hunting trip, or just need a reliable daily pack, this backpack adapts to your needs like a chameleon.
Check out our full review on the REEBOW GEAR Military Tactical Backpack
Other Top Rated Products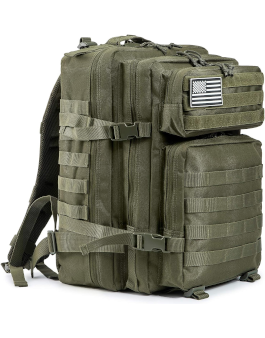 Introducing the QT&QY 45L Military Tactical Backpack, the ultimate companion for all your outdoor adventures!
THE SPACE YOU NEED: With dimensions of 18inch x 13.2inch x 11.6inch and a 45L capacity, this backpack provides ample room for all your essential gear. Its large multi-layer interior storage compartments can accommodate a wide range of outdoor equipment, making it perfect for fitness, outdoor travel, hiking, and other activities.
DURABLE & WATERPROOF: Crafted from 900D polyester material, this military-grade backpack is built to withstand the toughest conditions. It is reinforced and double stitched at all stress points, ensuring its durability. Additionally, the special coating makes it both water-resistant and scratch-proof, keeping your belongings safe and dry.
MOLLE MODULAR DESIGN: The backpack features a Molle webbing system on the front and sides, allowing you to attach extra pouches or gears as needed. Whether it's a kettle pouch, walkie-talkie pouch, first-aid pouch, torch pouch, sundries pouch, or even a sleeping bag and mat, this backpack has got you covered.
MULTIPLE COMPARTMENTS: Designed with 5 compartments, this backpack offers convenient storage for all your belongings. It includes two front pockets for small items, two large compartments with built-in zippered and mesh pockets for important supplies, a dedicated laptop/device compartment (17″), and a hidden back pocket for frequently-used items. Plus, it opens flat to 180 degrees, making packing and unpacking a breeze.
COMFORT & FUNCTION: Your comfort is prioritized with double-stitched, padded shoulder straps and a back area with mesh backing for ventilation and strength during travel. The high-quality brand two-way zipper ensures easy access to all compartments. The backpack also features easy adjustable waist straps to keep the waist strap securely in place. It's perfect for fitness, training, patrol, hiking, trekking, hunting, survival, camping, and so much more.
Pros
High durability and water resistance.
Versatile molle system.
Multiple compartments for organized storage.
Comfortable for long durations.
Cons
Might be overkill for minimalists or casual users.
Why This Backpack Over Others?
It's simple – versatility and durability. Whether you're into fitness, hiking, or hunting, this backpack adapts to your needs while standing up to the elements.
Whether you're planning a three-day outdoor adventure or need a reliable pack for your tactical games, this backpack might just be what you need.
It not only holds all your essential gear but also comes with a 45L capacity, handy accessories like a Key Chain Pouch, Water Bottle Pouch, and a USA Flag Patch. The CtopxCone backpack measures approximately 19.68 x 11.8 x 11.8 inches, offering spacious multi-layer storage. It's designed for a range of activities, from tactical games to survival trips and outdoor hiking.
It is made from 900D Oxford cloth, the backpack is not only high-density but also reinforced at all pressure points with bartack stitching. Its special coating adds to its water-proof and scratch-resistant features.
Weighing in at just 2.78lbs, it's light enough for long treks but durable enough for rugged use.
Pros
Large capacity and lightweight.
Durable material with waterproof and scratch-resistant features.
Versatile molle system for additional attachments.
Cons
May be too large for casual day-to-day use.
Limited color options.
Why Choose the CtopxCone Backpack Over Others?
This backpack is more than just a storage solution; it's a tactical partner. Whether you're embarking on a multi-day hike or participating in outdoor survival games, it adapts to your needs while withstanding the elements.
Introducing the DBTAC Tactical Sling Bag Compact Chest Pack Small, the ultimate companion for your everyday carry needs. Whether you're heading to the range, traveling, or engaging in outdoor sports, this versatile bag has got you covered.
With four spacious compartments, including a main pocket measuring L10"xW12"xH1.5", this bag provides ample storage space for all your essentials. But that's not all you'll also receive an embroidered USA flag patch (3.1 x 2.2) to show off your patriotism, as well as a universal holster with a hook strap that fits most popular pistol sizes. This holster is designed to securely store your pistol in the tactical bag backpack with a loop panel.
Constructed from durable 600D polyester fabric, this bag is built to withstand the toughest conditions. It's not only robust and waterproof but also incredibly lightweight, ensuring maximum comfort during your adventures. The reinforced sewn strength points guarantee long-lasting durability, while the sturdy dual zippers with lock hole (Dia.0.2) provide reliable security for your gear.
Stay organized and comfortable with the DBTAC EDC Chest bag. It features 5x Mags elastic straps for quick access to your magazines, and the front and middle compartments are equipped with multiple admin slots and zipper pockets to keep your wallet, phone/tablet, keys, eye/ear protection, and IFAK neatly organized. With the easily switchable left/right side options and padded/adjustable shoulder strap, carrying this bag is a breeze.
But that's not all – this bag is also designed for concealed carry. It boasts a CCW pocket at the rear, allowing you to quickly draw your sidearm in case of an emergency. The front loop panel/straps are perfect for attaching morale funny patches or extra attachments, adding a touch of personal style to your gear. And if you're into photography or other outdoor activities, this bag doubles as a camera bag and multi-purpose EDC bag.
At DBTAC, we are committed to your satisfaction. We stand behind our products and strive to make superior products that inspire you to do what you love and get better. If you encounter any quality issues within one year, please contact us and we will gladly provide you with a new bag. So why wait? Take a risk-free chance and add the DBTAC Tactical Sling Bag Compact Chest Pack Small to your cart now. It's time to do more and be more!
Pros
Durable and waterproof 600D polyester fabric
Ample storage space with multiple compartments and pockets
Concealed carry capabilities with a rear CCW pocket
Comfortable and adjustable shoulder strap
Included accessories such as an embroidered USA flag patch
Cons
May be too small for those needing to carry larger items
Some users may prefer a different style or design
Comparison with Similar Products
When compared to similar products on the market, the DBTAC Tactical Sling Bag stands out for its durability, versatility, and concealed carry capabilities. While other bags may offer similar storage space, the DBTAC bag's reinforced construction and lock hole zippers provide added security for your gear. The inclusion of a universal holster also sets it apart, allowing you to conveniently carry your pistol with ease